Pricing
Best prices for Reno Strippers and Hottest Dancers Guaranteed!
Male Shows
1/2 hour – $165
45-minute SPECIAL – $180
1 hour – $200
Female Shows
Topless
$160 1/2 Hour
$190 1 Hour
Nude
1/2 Hour – $165
1 Hour – $200
(One Girl)
2 Girl Show
1 hour – $400
VIP SHOWS
Looking to make your party the absolute best, or send that bachelor out with a BANG? Give your guests exactly what they want…. UNLIMITED! The VIP shows allow your party to enjoy all-inclusive lap dances, games, and body shots for the hour! Ready for the big finale? Your girls will then finish the show with unforgettable Girl on Girl action in a LIVE Porn Show!
X Show
All-Inclusive for up to 5 guests
$1250.00
XX Show
All-Inclusive for up to 10 guests
$1500.00
XXX Show
All-Inclusive for up to 15 guests
$1850.00
XXXX Show
All-Inclusive for up to 20 guests
$2000.00
XXXXX Show
All-Inclusive for up to 30 guests
$3000.00
The "Fine Print"- The All-Inclusive pricing doesn't include tips, so please make sure your guests still have some "fun money" to have a good time as well. Our entertainers will stay longer than the hour based on tips and participation. The pricing quoted in our packages is for up to 2 entertainers to perform, if you would like to add additional entertainers please contact our office for pricing. The porn show always includes the girl on girl action, however, most of our entertainers will also give you the option to have additional "add-ons" such as extra toys or "levels" they can offer you for additional fees at the show.
WE WILL BEAT ANY OTHER REPUTABLE COMPETITORS PRICES PERIOD!!!
Let us know if you find a lower price for any service and we will beat the quoted rate!
Call us Anytime 24/7
Same Day Service Available!
"Reno's Best when it comes to undress"
Policies and Party Information
18 AND OVER:
It is a California state law that anyone who attends any event involving "Exotic Entertainment" must be over the age of 18 years or older. We ask the person that books the show helps to assist to enforce this law. Reno Strippers values and appreciated our customers, so if it's not too much to ask, lets keep it for adults only. Thank-you, and we hope to see you at a party event in Reno real soon!
ONE ON ONES:
Our Female Strippers do not engage in one on one shows, due to bad experiences. However, some of our Male Strippers will perform one on ones. Remember this, we are not an Escort Service. Reno Strippers is strictly an Adult Entertainment service!
PRIVATE RESIDENCE – BRINGING THE PARTY TO YOU:
Private is usually the most successful and cost effective way to have your party event. You that you and your guests will feel more comfortable and be willing to let themselves loose in a discreet setting. Guaranteed to make your night an event to remember!
PARTY LOCATIONS – HOTELS, RESORTS, RESTAURANTS, BARS, OTHER VENUES:
If you choose to celebrate your Event in one of these listed locations be sure that you ask for permission of either the owner or the manager. Exotic Entertainment may be performed in a bar and/or restaurant (when open to the public) as long as it is performed in a closed private room away from all and any public viewing unless it is OK by the management. If your event is located at a hotel/resort and you are kicked out by the management during the Entertainers performance for whatever reason, there will be NO REFUND. So in other words if this occurs while the Entertainer is in the beginning, middle or end of their show the same policy applies – NO REFUNDS. In this case our agency has provided Entertainment, and services were rendered. Unfortunately you are at your own risk when booking at these venues.
TRAVEL CHARGE MAY APPLY
Our Exotic Dancers service all areas, however some areas may require an extra fee (mileage charge).
CASH PAYMENT FOR SERVICE:
There is no need for payment or deposit when booking your Party Event with us. The reason for this is we rarely get cancellations and you'll never have to worry about us not showing up to your Party or arriving hours late. This way we keep it simple, the contact (usually the person who booked the Event) will pay the Dancer cash payment when they arrive for your Party. We also accept some credit cards for payment (Visa and MasterCard).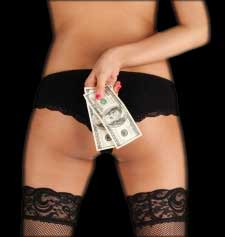 TIPPING/PARTY GAMES:
Allotted times are based on participation and tipping. Prices listed do not include tips. This is the show-up fee only, a portion of which covers the Entertainer's time and travel expenses. The Male and Female Dancers depend on your participation in their activities and your tipping generously. They work for tips throughout all portions of their shows. Most Female and Male Strippers perform "Party Games" which consist of tipping; however, if you do not prefer Party Games, please inform us in advance. All Female and Male Exotic Dancers in the industry operate according to this industry standard.
VIDEO/PICTURES:
Most of our Female and Male Dancers allow pictures to be taken during their performances. If you and guests are looking to film the Entertainer let your Dancer know upon their arrival. Every Male Entertainer has their own separate video fee. Female Strippers do not allow filming during their shows. If you or a guest are caught with a video camera during the performance of a Female Dancer they will leave, NO EXCEPTIONS, with NO REFUNDS. When booking your Party, and you are planning to use a video camera, please ask us about the video fee and we can over it with you.
PARTY CONDUCT:
Reno Strippers provides our customers with great customer service, and Professional Dancers that offer Premier Exotic Entertainment. Once your Entertainer arrives at your show, they at that time are a guest. Whomever booked the show is responsible for the conduct of their guests. At any time that our Entertainers feel threatened or harassed by the crowds misconduct (male and female) audiences, our Entertainers have the right to leave at their discretion and there will be NO REFUNDS.
"Reno's Best when it comes to undress"
Take pride and order one of our entertainers for that next special party occasion.
Same Day Service Available!
Call us Anytime 24/7